28-Day Anti-Racism Pentecost Challenge 2021!
How do we live out our calling to "Love our neighbors" and "Do justice?" 
The Anti-Racism Resource Team of the Maine Conference, UCC invites you and members of your church and community to take part in a 28-Day Anti-Racism Challenge  beginning on Pentecost, May 23rd and ending on Juneteenth, June 19th.  The season of Pentecost is when we celebrate the gift of the Spirit filling people of every nation with new hope and understanding.   Juneteenth is a celebration of the emancipation from slavery in the United States.
What a wonderful opportunity to intentionally take this time to dig deep and grow as disciples as we seek to dismantle racism and embody the "Kingdom of God on earth as it is in heaven." 
Beginning on May 23rd, on the blog below, we will share a resource (article, video, etc.) to explore. Most will take 10-20 minutes of your time. A few will take more like an hour. Invite a group in your Church or Association to meet once a week to discuss what you are learning. A Small Group Reflection Guide is available. Activities for kids and families will also be provided. 
28-Day Anti-Racism Pentecost Challenge 2021 Blog
Watch this short video: Unpacking the Invisible Knapsack: https://www.youtube.com/watch?v=DRnoddGTMTY Check-out: Restorative Justice Social Media facebook.com/RJIMaine/: https://www.facebook.com/RJIMaine/
Read More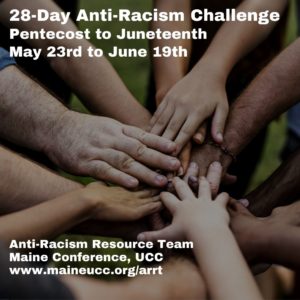 2021 Pentecost
Challenge Signup
The Anti-Racism Resource Team is a group of clergy and lay members of the Maine Conference UCC committed to dismantling racism in all its forms. We welcome others to join us in the pursuit of justice.
Our Main Focus is to:
Identify and provide Anti-Racism training and education resources;
Be a communication hub, inspiring advocacy in the Maine Conference UCC;
Listen for the concerns people of color face in Maine and beyond, and seek to take action; and
Discover how the "New Jim Crow" manifests itself in Maine and ways to respond.
Team Members: Allison Smith, Linette George, Steve Gray, Chrissy Cataldo, Alyssa Lodewick, Sarah Pringle-Lewis, and John Cunningham.