What did you go out to see?
Matt 11:4-9
4Jesus responded, "Go, report to John what you hear and 5Those who were blind are able to see. Those who were crippled are walking. People with skin diseases are cleansed. Those who were deaf now hear. Those who were dead are raised up. The poor have good news proclaimed to them.[a]  6Happy are those who don't stumble and fall because of me."
7When John's disciples had gone, Jesus spoke to the crowds about John: "What did you go out to the wilderness to see? A stalk blowing in the wind? 8What did you go out to see? A man dressed up in refined clothes? Look, those who wear refined clothes are in royal palaces. 9What did you go out to see? A prophet? Yes, I tell you, and more than a prophet. 
---
Christmas blessings to all!
On Christmas Eve, in churches across Maine, people will share time-honored traditions of worship, singing carols, lighting candles, enjoying family and friends. Congregations will host so many people who are seeking the light and hope that Jesus brought into the world. The impulse to gather in community and seek God's presence has not waned, especially in these hard and perilous times. We seek comfort in our traditions and inspiration from our sacred story. In our churches, people will find a loving community. The light of Christ will shine!
For a little while, we will experience the upwelling of grace and hope that is always present, but not always easy to see. There are too many voices telling us what is wrong, and not enough helping us see that Emmanuel, God with us, is always present and active.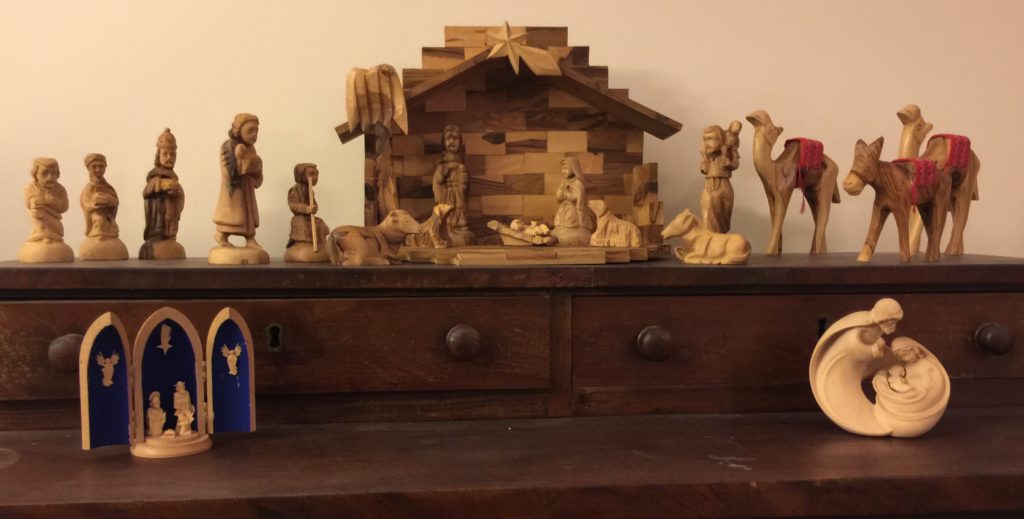 Like Jesus, we live in fearsome times that are also remarkable times of opportunity for the light of Christ to break through once again. How are we doing? Are we heeding the repeated urging of angels to "fear not?" Can we find time in the midst of hustle and bustle, or quiet grieving, of family times and lonely times – to seek the light that has come and is coming again?
We are surely seeking light and hope in these dark times. Paul in his letter to the Ephesians prays that "the eyes of your heart will have enough light to see what is the hope of God's call." Eph 1:18. Earlier in Advent, Jesus asked the disciples "What did you go out to see?" Rich people in fine clothes, or prophets bringing the Good News?
What intention do we take out into the world? What do we go out to see? In the midst of so much peril to ourselves and to others, will we allow ourselves to see signs of good news? Will we choose to live in a world where God is Incarnate, working, creating love and justice, even when we cannot see it ourselves? In this darkest time of the year, do we have enough light to see the hope that God sets before us – even gives us as our Calling and birthright?
Yes, of course. Let us seek signs of Hope, and also actual change. One movement that gives hope and shows God Incarnate holds that there is a great upwelling of goodness, caring for creation, justice, wholistic healing that is happening. Across the world, and right here in Maine, many see a Great Turning, away from an industrialized, destructive way of being to a sustainable, earth-centered way of being. This sounds like the same revolution that Jesus brought, and that we are still faithfully working to fulfill. Joanna Macy is one who sees it clearly. She writes, with Chris Johnstone:
Right now a shift of comparable scope and magnitude [to the Industrial Revolution] is occurring. . . . We call it the Great Turning and see it as the essential adventure of our time. It involves the transition from a doomed economy of industrial growth to a life-sustaining society committed to the recovery of our world. This transition is already well underway.
In the early stages of major transitions, the initial activity might seem to exist only at the fringes. Yet when their time comes, ideas and behaviors become contagious: the more people pass on inspiring perspectives, the more these perspectives catch on. At a certain point, the balance tips and we reach critical mass. Viewpoints and practices that were once on the margins become the new mainstream.
So, what do we go out to see? In the Maine Conference, we can see the Kingdom coming and the Great Turning happening. Emmanuel, God With Us, is right here. Our churches help New Mainers who have escaped life-threatening situations. We feed thousands and thousands of people throughout the year. We advocate for justice and march for equality. We quietly help our own members and so many others in times of need. We seek a closer connection with our Wabanaki neighbors, and work for racial justice for our neighbors of color. We pray without ceasing. We are part of the Great Turning – the upwelling of the Kingdom of God.
"What did you go out to see?" You already know the answer. We see a tiny baby born in a stable, who started a revolution that continues today. May we all open the eyes of our hearts to see the Kingdom and help that Kingdom come. In this Christmas season, let us be on the fringes with Jesus, joining in his revolution of disruptive light, love, justice, peace, and compassion. May the revolution become the mainstream.
​Wishing all a blessed Christmas and Joyous New Year,
Deborah J. Blood
Conference Minister